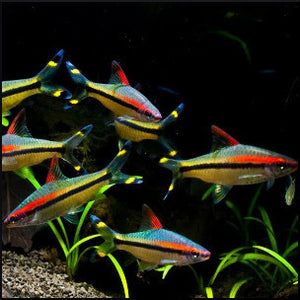 The Denison Barb, also known as the Red Lined Torpedo Barb or the Rose Line Shark, is a longer fish when compared to the other barbs. The coloration of this fish is silver in color with a black line running the length of its body and a red stripe across its eyes. It also has a red edge on its dorsal fin and yellow and black accents on the end of its tail.
Unlike some of the other barbs, this is a peaceful fish that is a welcome addition to any larger community aquarium. They should be kept in groups in an aquarium with a tight fitting lid, as they have a tendency to jump. In nature, they are found in fast moving streams and appreciate a high oxygen level in aquarium water.
The Denison Barb needs to be fed a variety of foods including vegetables as well as meaty foods. Feed a quality flake food as well as live and frozen foods such as brine shrimp and bloodworms.