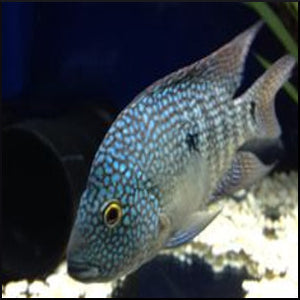 Rough purchase size 4-5cm.
The Texas Cichlid, also known as the Rio Grande Perch and the Rio Grande Cichlid, is an iridescent golden color with pearl highlights and white dots on its body and fins. There are several small black spots at the base of the caudal fin and along the middle, rear half of the body. The juveniles have an iridescent pearl-gray body with white dots on the body and fins. There is a black dot at the base of the caudal fin and one in the center of the body.
They are also leaner in size.The Texas Cichlid requires a tank of at least 50 gallons, with a fine sand bottom. There should be rocks and roots for them to hide among. The plants should be hardy as the Texas Cichlid will burrow around and attack them. The Texas Cichlid uses floating plants as a cover. The tank should be divided into territories using hardy plants, if possible. The Texas Cichlid is sensitive to old water and requires frequent changes of 1/4-1/2 of the water weekly. They are territorial and somewhat waspish, so care should be taken when choosing tank mates. Choose other more aggressive fish to share an aquarium with the Texas Cichlid.