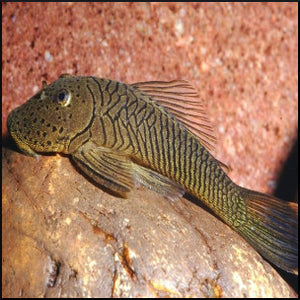 Rough purchase size 5-6cm.
The Rubber Pleco, also known as the Gold-fin Suckermouth, comes from the rivers and tributaries of South America. The scales are tan to dark brown, with black outlines. They have bristles on each side of the mouth, under the eyes. Rubber Plecos make good additions to any community aquarium.
Planted aquariums with hearty, fast-growing plants, high aeration, and water movement make for a healthy environment. Rocks and driftwood help to accent a natural habitat and provide hiding spaces to cut down on stress for the Rubber Pleco. A recommended minimum tank of 50 gallons should be provided to house this fish.
The breeding habits of the Rubber Pleco are unknown. The sexes are difficult to distinguish, but the males have thicker spines on the first hard ray of the pectoral fin.