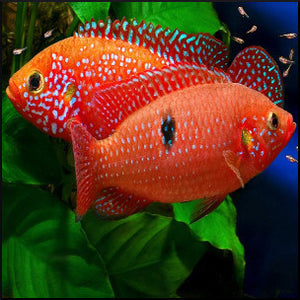 Rough purchase size 4-5cm.
The Jewel Cichlid originates from Africa where they live in streams and river systems with mud bottoms. This jewel cichlid has a wide range of common names with some pet stores calling them the Blue Jewel Cichlid, Green Jewel, Jewel fish, etc. Their coloration in pet store tanks can be a little drab, but with proper feeding and a suitable aquarium, they should color up nicely. They are very hardy and should tolerate a range of water conditions, but may only breed in tanks with water on the acidic side and slightly elevated tank temperature. See the table below for more parameters.
This Jewel Cichlid can be quite aggressive, even more so when they form pairs and start breeding. They will not tolerate other fish in the tank when this happens. A tank divider is needed if you plan on stocking them with other fish. Given their nature, a separate tank is advisable if you want to keep a pair of these beauties. Once they have babies, like other cichlids, these are great parents and will defend their fry against any and all comers.