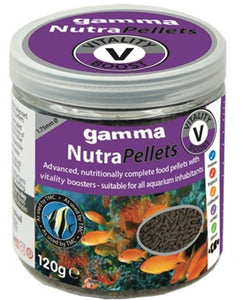 Advanced nutritionally complete food pellets with vitality boosters- suitable for all
aquarium

 inhabitants.

 
Soft pre - mixed sinking pellets for easy feeding and low waste.
100 % natural, easily digestible
Cold extruded to ensure no loss of natural value
Added vitality boosters including probiotics,garlic,aloe Vera and omega 3
Contains naturally occurring sensory attractions to encourage feeding
As the food is eaten by the fish, fine particles will be released into the aquarium, providing food for small fish, corals and other filter feeders.
Suitable for feeding to new or stressed fish for up to six weeks to naturally maintain health.
Use n conjunction with gamma nutra complete , algae & colour boost and liquid feeds as well as gamma frozen and gamma dry foods to provide a varied diet and maintain your fish in optimum condition.